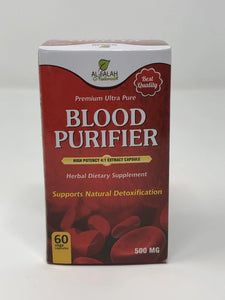 Blood Purifier 4:1 Premium Extract 500mg [60 Vegetarian/Halal Capsules]
Black and Nobel
Regular price $19.99 Sale
Poor diet, fast food, medication and enviromental toxicity all helps to contribute to the excessive amount of toxins in the body. Natural herbs extract help support the detoxification process and support healthy liver function.

Other Ingredients: Capsule (Vegetarian cellulose) 100% Vegetarian. No fillers, binders, or common allergens.

Suggested use: 1 Capsule Twice daily After Meals.
Storage: Store in a cool place, away from sunlight. Not recommended for use during pregnancy.