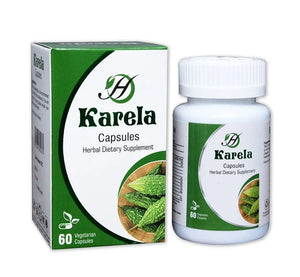 Karela Capsules – 60 Pack
Black and Nobel
Regular price $19.99 Sale
Karela (Bitter Gourd) is profoundly grown in Asian and sub-tropical climates. It makes an essential detoxifier and skin cleanser. Regular intake of this bitter herb helps boost the immune system while removing all unnecessary toxins. Karela has multiple health benefits such as:
Karela promotes normal sugar levels in blood and urine.
Karela helps achieve positive sugar regulating effect by suppressing the neural response to sweet taste stimuli.
Karela helps to support is a good blood purifier.
Karela a polypeptide which is similar to bovine insulin.
Karela promotes health of the pancreas.
Karela supports liver health.
Karela helps in digestion.
Karela promotes the body's natural metabolism.
Karela is considered to be a powerful detoxifier.
Karela helps maintain a normal level of triglycerides and cholesterol in the liver and blood.
Karela helps support a normal immune system function.
Karela is a wonderful remedy for constipation.
Karela has been found to help boost energy and stamina level in the body.
Karela quickens healing and alleviates pain resulting from piles.