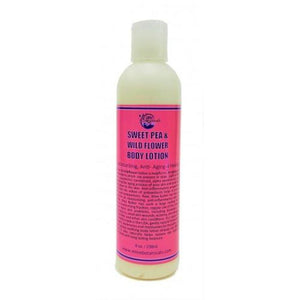 Sweet Pea & Wild Flower Body Lotion
Black and Nobel
Regular price $11.99 Sale
SWEET PEA & WILD FLOWER BODY LOTION
With Vitamin-E & Shea Butter
Moisturizing, Anti- Aging & Healing
Sweet Peas & Wildflower lotion is helpful in anti-aging of the skin. The antioxidants which are present in those such as flavonoids, catechin, epicatechin, carotenoid, alpha carotene etc. are helpful in preventing the aging process of your skin and tends to provide a natural glow to the skin. Anti-inflammatory properties of peas coupled with the action of antioxidants helps in prevention of wrinkles and osteoporosis. Raw, Shea butter has been used for centuries for its moisturizing, anti-inflammatory and anti-aging properties. Shea Butter has such a large healing fraction, in addition to moisturizing fraction, regular use of this natural lotion can treat many skin problems, including blemishes, wrinkles, itching, sunburns, small skin wounds, eczema, skin allergies, insect bites, frost bite, and other skin conditions. Our natural this body lotion is freshly made in the USA, gently natural formula is safe for all skin types, replenishes and moisturizes for the softer, smoother skin. Non greasy soothing body lotion relieves dry, tight skin all day long. It also naturally helps restore skin hydration and moisture levels with long lasting moisture.
Use: Apply daily to the whole body, ideally after wash or shower with Sweet Pea & Wild Flower soap or body wash. Gently massage in. Use twice daily.
Ingredients: Raw Butyrospermum Parki (Shea Butter), Sweat Pea Extract, Wild Flower Extract, Deionized Water, Coconut Oil, Cocoa Seed Butter, Jojoba Oil, Vegetable Glycerin , Alantoin (Cell Regeneration, Hydration) , Tocopherol (Vitamin-E) , Palm Kernel, Ceteareth 20 (Emulsifying Wax) , Olea Europea (Olive Oil) , Aloe Barbadensis Leaf Juice, Grapefruits Seed Extract & Natural Fragrances.
**Natural ingredients may vary in color & consistency. If irritation occurs, discontinue use.
Size :- 8 oz