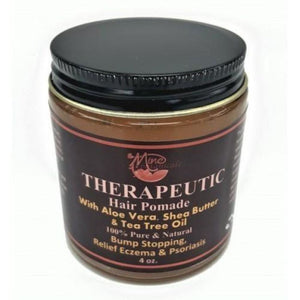 Therapeutic Hair Pomade
Black and Nobel
The therapeutic Hair Pomade is a balanced blend of natural homeopathic remedies, herbal extracts & essential oils specifically chosen for their effectiveness in the treatment of Razor Bump, Eczema & Psoriasis. It has been fortified with traditional herbs in the form of extracts & essential oils. It relieves and helps prevent recurrence of skin irritation, itching, redness, flaking, scaling due to psoriasis and seborrheic dermatitis. This concentrated hair pomade formula is also effective for bumps and ingrown hairs caused by shaving with razors, electric shavers and depilatories.
Ingredients:- Raw Butyrospermum Parki (Shea Butter), Coconut Oil, Tea Tree Oil, Jojoba Oil, Grapefruit Seed Extract, Vitamin-E Oil, Calendula, Aloe Vera, Lavender, Chamomile, Bergamot, Sandalwood, Grapefruit Seed Extract, Pure Mineral Jelly, Rosemary, Olive Oil, Bees Wax & Natural Fragrances.
Use: - Rub a little between your palms to warm up, and distribute through your hair & beard as needed. Great moisturizer for any types of hair, beard and all over the body.